Bloodstone is an opaque dark-green form of chalcedony quartz with distinctive red spots. The green color is due to the presence of particles of chlorite or included hornblende needles, while the red spots are caused by iron oxide. The color is somewhat variable and some specimens of bloodstone have very little or no red spots.
Bloodstone is also known by the name heliotrope, perhaps because in ancient times the color was reminiscent of reflections from the setting sun. The name bloodstone obviously comes from the resemblance to blood of the red droplets.
The Christians attached special significance to bloodstone. A Christian legend is that when Jesus Christ was crucified, the dripping blood stained the green jasper at his feet, and this was the origin of bloodstone. Bloodstone was widely used in sculptures representing flagellation and martyrdom, and was known at one time as the Martyr's Stone.
There are also some gemological myths associated with bloodstone. In the gem trade, the term blood jasper is sometimes used to refer to bloodstone. Many apparently reputable sources describe bloodstone as a form of green jasper, or as containing red jasper. But according to the most authoritative sources, such as Schumann's Gemstones of the World, bloodstone is not a jasper at all.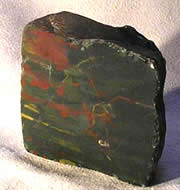 (Bloodstone Rough )
Bloodstone was the original birthstone for March but has been replaced by aquamarine. However, bloodstone is still regarded as the astrological gem for Aries. You will most commonly find bloodstone cut into cabochons and beads. It is also traditionally used as a seal stone.
The largest bloodstone deposits are in India. Bloodstone is also found in Australia, Madagascar, Brazil, China and the United States. Fine specimens of bloodstone can be hard to find in the market today. Some believe the reason for the shortage is due to the fact that finely powdered bloodstone is used as both a medicine and an aphrodisiac in India.
Due to its name and appearance, many myths became associated with bloodstone. It was once thought to be able to stop hemorrhages with the merest touch, and to relieve stomach and bowel pain. It was said to strengthen blood purifying organs and improve blood circulation.